Do not Go To Sleep - Jane
She is a deadly enemy of Jeff the killer. Jane was the only friend of Jeff. But her parents were killed by Jeff and then Jeff set her on fire. Jane is now seeking revenge against him. Jane has black eye lids, her face is pale white and her lips are red. Jane covers her red lips in black lip stick. Jane also wears a Gothic black dress. She can sometimes be seen wearing a white mask. When it comes to Jane, you don't know if she's going to kill you, let you go, date you, save you or become friends with you. If Jane tries to attack you or kill you, you can beg for her not to kill you. She may lisen. Jane has teamed up once with Jeff. Jane has killed Jeff once. Jane is bi-sexual.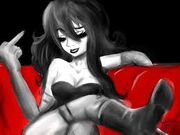 Ad blocker interference detected!
Wikia is a free-to-use site that makes money from advertising. We have a modified experience for viewers using ad blockers

Wikia is not accessible if you've made further modifications. Remove the custom ad blocker rule(s) and the page will load as expected.